Amazing season finale for Honda Racing World Enduro Team. Nathan Watson wins E2 class and finishes close to the Overall victory. Podium also for Samuele Bernardini and top five for Manolo Morettini and Rony Kytoten. Francesca Nocera is bronze medallist in the Women's World Championship.
Following the success in the first GP of Portugal, yet another thrilling performance for Nathan Watson. After Saturday's fourth position and the sixth Overall, on Sunday the English rider proved to be uncatchable, winning the E2 class and ruling the Overall until the last tests, finishing second only behind Garcia by a handful of seconds. Another race in the top five for Manolo Morettini, who in EJ1 class finished fourth on Saturday and sixth on Sunday.
Nathan Watson | EnduroGP | Day1 > 6° – Day2  > 2°  
E2 | Day1 > 4° – Day2  > 1°
"Really good weekend up to the end with the class win. Saturday in the last extreme test I had problems with the chain losing 30 seconds, otherwise I would have taken the podium. Sunday I was more consistent and I had fun fighting with the top riders".
Manolo Morettini | Junior | Day1 > 6° – Day2  > 6°
EJ1 | Day1 > 4° – Day2  > 6°

"A good weekend with two top ten. A mixed race with different types of terrain. I'm happy! Now let's prepare for the Six Days"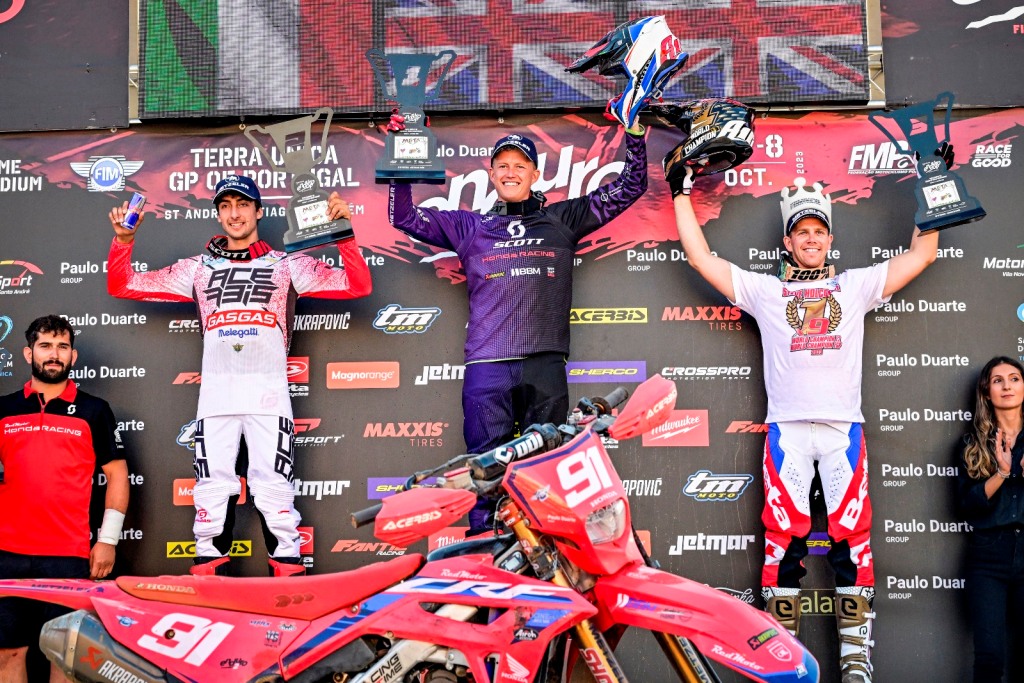 Super weekend for Francesca Nocera, protagonist of two very good racing days. Second only behind the recently crowned Daniels, on Sunday she finished close to the victory, missed by only 5 seconds. Nocera finishes her first World season with an amazing third in the standings.
After the podium in Valpacos, in E2 class Samuele Bernardini took another great third position on Saturday. A result he could have replicated on Sunday if it wasn't for a crash in the early special tests that made him race a comeback race. In E1 class top five for Rony Kytonen, fifth on Saturday and sixth on Sunday.
Samuele Bernardini | EnduroGP | Day1 > 5° – Day2  > 7° E2 | Day1 > 3° – Day2  > 4°
"I pushed hard this weekend. On Saturday I raced great, while on Sunday I crashed immediately and had a race in recovery".
Roni Kytonen  | EnduroGP | Day1 > 18° – Day2  > 21°
E1 | Day1 > 6° – Day2  > 5°
"A better weekend then the last one. I set good time laps but I struggled with the feeling and made many mistakes in the extreme test. It was a difficult season for me but we worked hard".
Francesca Nocera | Women | Day1 > 2° – Day2  > 2°
"Great weekend with the third final position in the standings. I gave my best on Sunday, pushing until the end: it's a shame I lost the victory for just 5 seconds on Sunday". .
👉 View the photo gallery of the race